March 2020, Conklin, NY — Dryshod, the new benchmark in performance waterproof footwear for farming and outdoor recreation, is pleased to introduce the new Barnstable farm boot for women.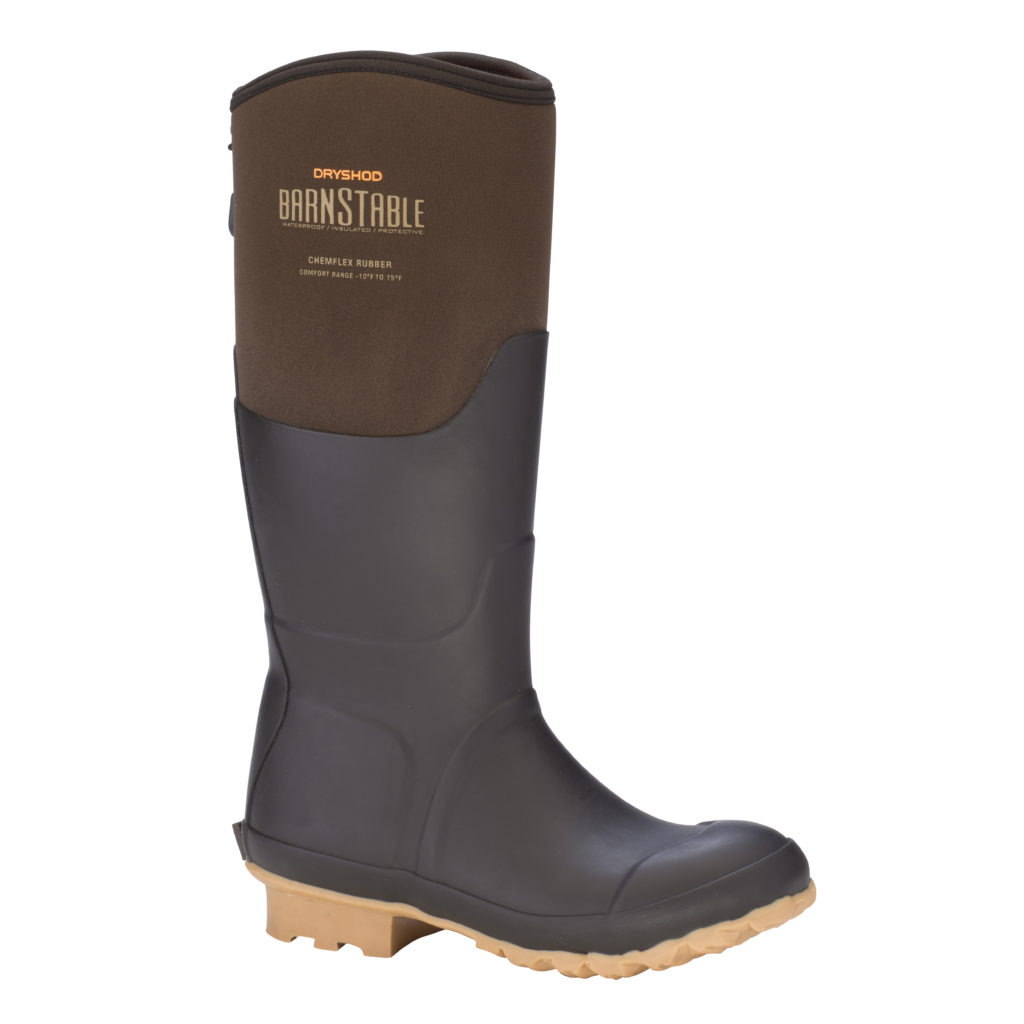 Working a farm or ranch can be a sloppy business, yet the Barnstable boot is built for the wettest and muddiest conditions. Designed specifically for women, the Barnstable features a tractable hand-cut rubber outsole with a compression-molded, fully cured rubber heel that delivers added grip and traction in soft soil and the slippery conditions often encountered around barns and stables.
The upper, as with the tread, is comprised of ChemFlex chemical-resistant rubber overlay that stands up to caustic chemicals. Also assisting in keeping the Barnstable boot clean and functional in the harshest conditions is the HYDROKOTE® water-repellent treatment on the roll-down calf pipe. Water and mud sheds easily because the HYDROKOTE coating prevents water absorption, so no more soggy boots.
The heart of the Barnstable is the 5mm DENSOPRENE® foam insulated bootie that is 100-percent waterproof and made to keep feet warm and dry. Inside is a four-way stretch breathable airmesh lining to minimize moisture buildup. Included is a removable molded EVA sockliner and a steel shank for maximum arch support.
For added comfort and convenience, the Barnstable features a scalloped top line to reduce friction along the calf and comes with integrated back-pull tabs to assist in putting the boots on when wearing heavy socks. A molded-in kick heel allows the boots to be easily removed.
With a comfort range of -10ºF to 75ºF and complete wet and mud protection with optimal traction, the Barnstable delivers all-around performance for farm and ranch duties. This boot is available in both high- and mid-cut sizes in brown/peanut.
https://www.thetacticalwire.com/releases/50c72429-6cfb-4858-9752-c7e3d42f674e