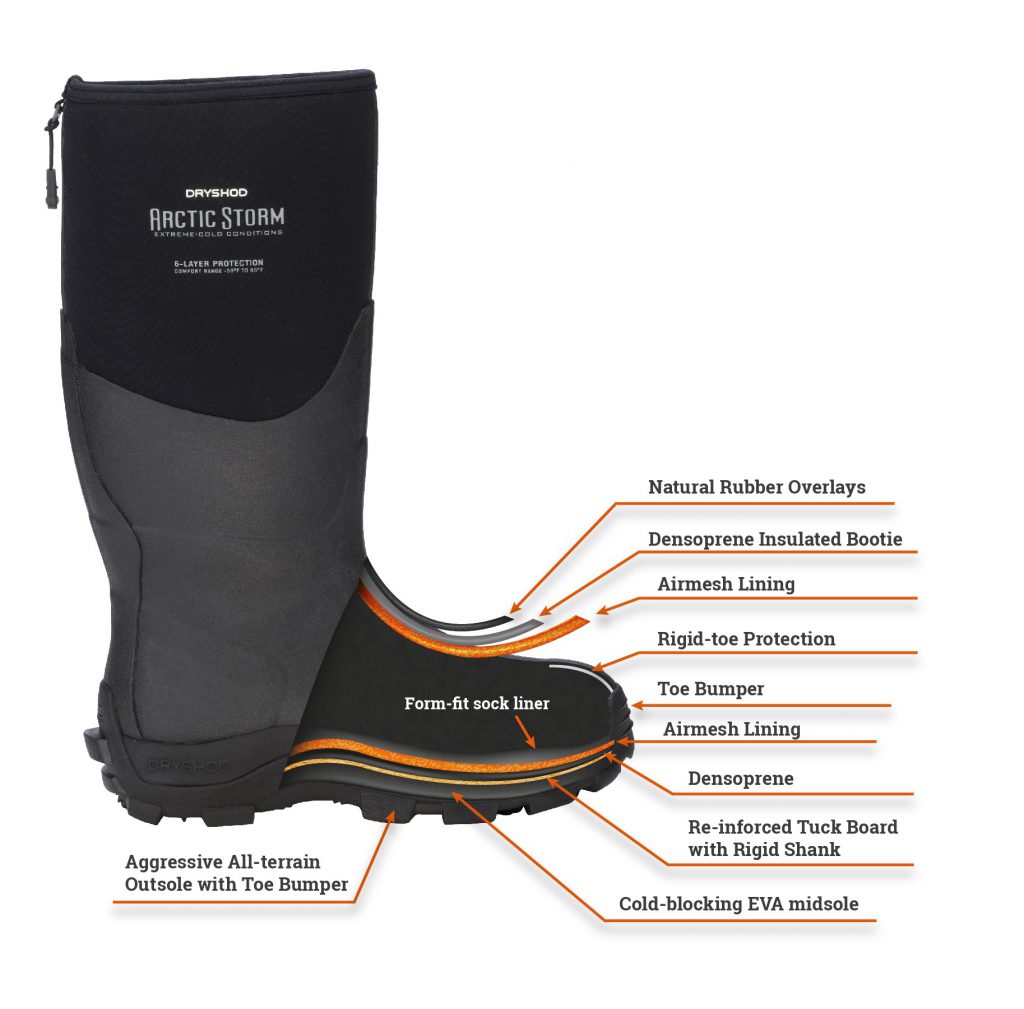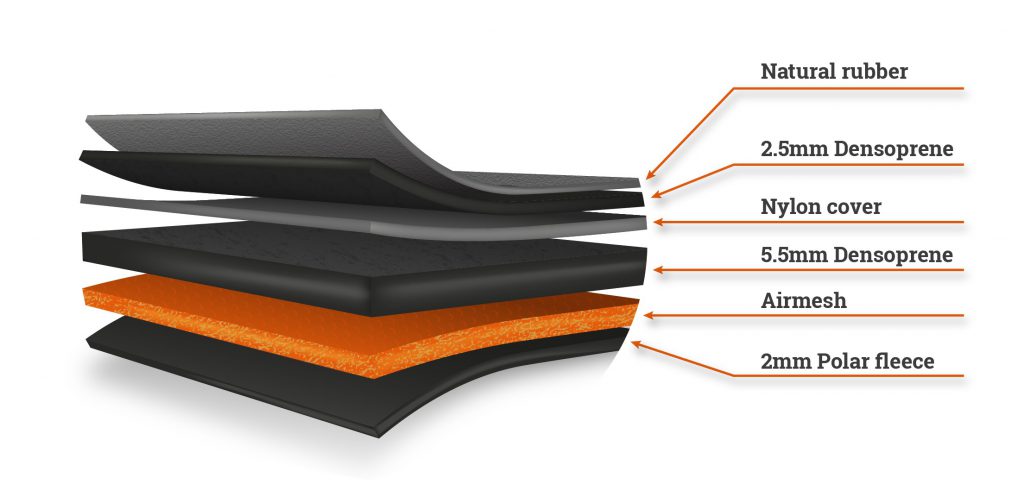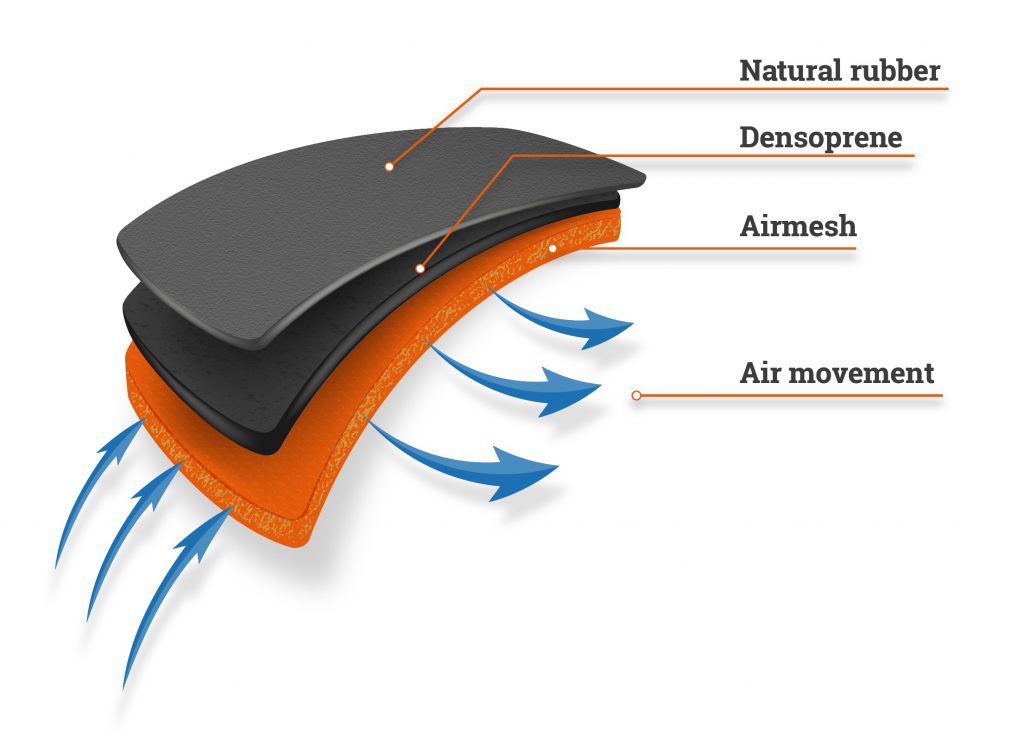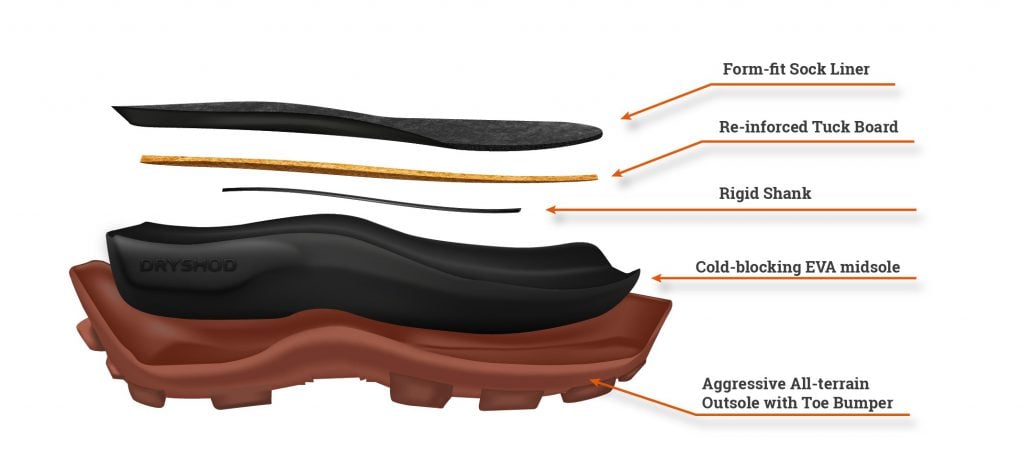 Premium Features
Standard on All Models
Dryshod® footwear products go "Beyond Waterproof" by providing weather-proof technologies to keep your feet warm, dry and protected in the harshest weather and messiest working conditions. The secret to Dryshod boots effectiveness is our exclusive self-insulating, waterproof DENSOPRENE® foam bootie construction and HYDROKOTE® water repellent textile treatment.
100% WATERPROOF
Designed and built to be 100% waterproof from top to bottom
5 mm DENSOPRENE® FOAM INSULATED BOOTIE
Keeps out the cold & wet – keeps in the warm & dry
DENSOPRENE foam is a super dense neoprene material that keeps the cold/wet out and the warm/dry in. This waterproof and self-insulating foam is naturally lightweight, buoyant and very comfortable – your foot and lower leg stay warm and protected in cold and wet conditions. In fact, they are constructed with the same material as deep-water dry suits. Dryshod materials exceed the long-term effectiveness of waterproof membrane materials and provide greater insulating properties per volume than fine-layered substrates.
HYDROKOTE® WATER-REPELLENT
No more soggy boots. Water rolls off and dries in seconds
HYDROKOTE water repellent is featured on all Dryshod footwear products. The textile cover on the entire bootie is treated with a nano-scale hydrophobic coating that repels water and mud on contact. This keeps the textile exterior surface of the boot from icing up in freezing temps and from retaining water in the fibers in wet conditions. With HYDROKOTE, soggy boots are a thing of the past.
4-WAY STRETCH BREATHABLE AIRMESH LINING
Moves the air to keep your feet dry and comfortable
All Dryshod footwear is lined with our exclusive breathable airmesh lining to keep your feet dry and comfortable. Airmesh is what keeps high-end running shoes cool and dry under intense use. Structured-airmesh has a top layer and a bottom layer that is held apart by thousands of tiny vertical fibers. As you walk, air is pushed and circulated through the vertical fibers allowing the skin to breath thus keeping the boot dry and humidity-free within the boot's specified comfort range. Dryshod boot linings are nonabrasive and hypoallergenic. When you see the orange 4-way stretch lining, you know it's breathable airmesh – NOW YOUR FEET CAN BREATHE!
EASY-ON/EASY-OFF
4-way stretch materials and generous heel kick for easy-on/easy-off convenience
ROLL-DOWN CALF PIPE
Roll down the top to tuck in your pant leg or vent in warm temperatures
Soft, not stiff upper! The upper calf and topline areas are made of soft, flexible DENSOPRENE foam and 4-way stretch lining that will "stretch-fit" to virtually any calf. With the flexible upper, the pant leg can be worn over or inside the boot. In the event of heat and moisture build-up, the top collar on Dryshod Boots can be folded down to vent the boot.
GENUINE NATURAL-RUBBER OVERLAYS
Only genuine hand-laid rubber. No PVC, PU, or TPR
Genuine natural-rubber overlays also serve as a protective skin for Dryshod footwear. The rubber will stay flexible for years and will not cold-crack like footwear made of PVC, Urethane and TPR materials. Dryshod overlays are also double-reinforced in the toe area and triple-reinforced in the heel area. Dryshod outsoles are made of premium natural-rubber for long wear and optimum traction.
SUPERIOR STABILITY
Reinforced tuck board with rigid shanks for added stability
SUPERIOR FIT AND COMFORT
Slipper-soft comfort and sized to athletic-shoe standards
CONVENIENT BACK-PULL TABS
Sturdy pull tabs for easy-on/easy-off convenience and safety
Bonus Features
Available on Select Models