Rubber boots are what you wear when it's wet and muddy. Rubber boots are waterproof and taller than other boots for even more protection from the elements. Tuck in your pants and you'll keep dry and clean clear up to your knees. For outdoorsmen, farmers, ranchers, workers, gardeners and the like, when it's wet or muddy, easy-to-slip-on rubber boots have long been the answer to wet and muddy conditions.
But, as rubber boot wearers know, this reliable waterproof protection has always come at a cost. Rubber boots lack the support, stability and cushioning of tie boots and, especially with prolonged use, can cause discomfort and joint stress.
The human foot is an engineering marvel with more than 200 muscles, 52 bones and 66 joints. Wearing poorly constructed rubber boots can compromise foot function and comfort and puts undue stress on the complex network of joints that run throughout each foot. Stress that can cause discomfort now and, over time, lead to foot, ankle, knee and/or lower back problems. Nobody needs that!
Enter Dryshod. Dryshod makes an entire line of rubber boots that not only keep your feet clean and dry, but also offer dramatically improved support, stability and comfort. With Dryshod, you get utility with wearability. Dryshod is the world's most wearable rubber boot!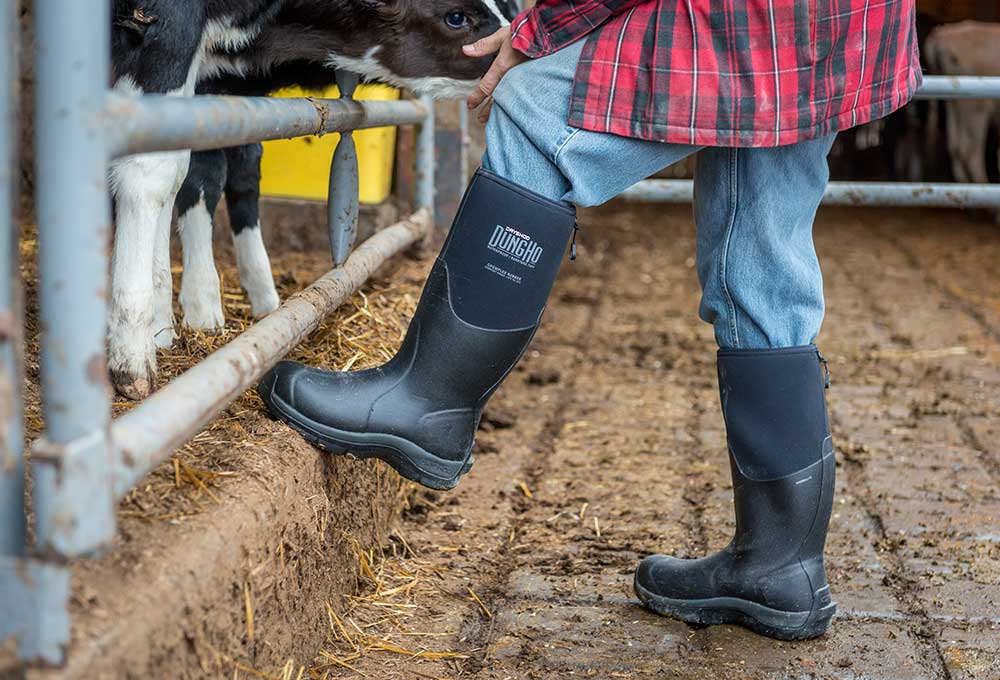 What makes Dryshod the world's most wearable rubber boot?
Wearability means unmatched lateral and torsional boot stability
(Reinforced No-Torque tuck board and built-in, rigid Shod Shanks, provide superior stability.)
Wearability means a better fit and a more comfortable wearing experience
(Flexible, state-of-the-art materials allow for athletic-shoe sizing for a fit you just can't find in any other rubber boot)
Wearability means solid cushioning for joint-saving comfort
(Padded lining coupled with a padded removable insole provide double cushioning)
Wearability means boot removal that's easier than ever before
(RollDown design makes removal easier than ever, allows for venting)
Wearability means superior warmth when it's cold without added bulk
(Exclusive Densoprene neoprene is a drysuit material known for lightweight maneuverability and insulation without bulk)
Wearability means 100% waterproof top to bottom and no soggy, heavy neoprene
(Hydrokote water repellent coating eliminates soaked or iced-up neoprene and rotting due to farm chemicals)
Wearability also means 100% waterproof today and tomorrow
(All-natural rubber with no PVC or urethane ensures no cold-cracking over time)
Wearability means dry, comfortable feet, even when it's warm
(AirMesh lining forces air movement which means your feet are less likely to sweat)
Wearability means rubber boots that fit women, too
(Unlike others, Dryshod makes boots specifically designed to fit womens narrower feet)
Wearability means the right sole for the job
(Natural rubber outsoles in five different sole configurations ensure long wear and exceptional traction.)